The bone crusher machine is made of stainless steel and has a food hygiene level. It can crush meat materials such as cattle, sheep, pigs, rabbits, ducks, and fish bones.
Precautions: After the fresh bones are broken with meat, it is easy to cause sticky joints. After a period of use, the broken bones that do not enter the screen will block the knife, so that the newly inserted bone cannot touch the knife and break. It is especially recommended to open the feed inlet and the screen regularly to remove the broken bones. In this way, the cutting efficiency will be higher and the service life of the machine will be longer.
Characteristics: simple operation, convenient cleaning and maintenance, compact structure, stable work, large output, low temperature rise, and adjustable particle size. This machine is particularly suitable for the crushing of large bones of cattle, pigs, sheep, and other animal bones and fish bones.
This machine is widely used in various sausages, ham sausages, luncheon meats, meatballs, quick-frozen foods, salty flavors, bone marrow extraction, bone meal, bone mineral, bone broth, bone peptide extraction, biological products, convenient fabric packages, composite seasonings, crushing of hard materials such as catering ingredients, pet food and frozen meat.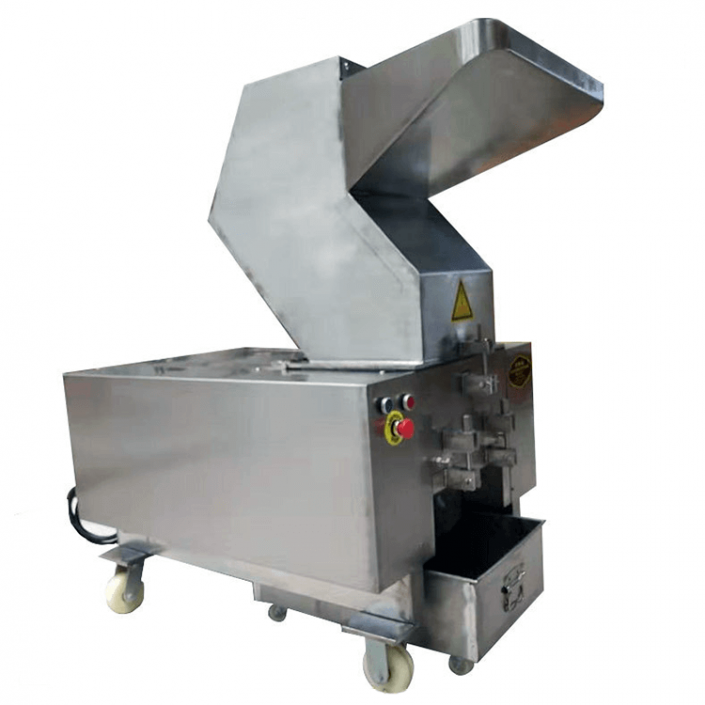 86% Visitors ENQUIRED NOW and Got the Following Gifts Freely
1. 2021 Full Catalogue
2. 2021 Full Price List
3. Technical Brochure
4. Operation Manual
5. A Surprising Discount
6. Some Free Accessories
Model

Capacity

(

kg

)

Power

(

kw

)

Weight

(

kg

)

Diameter of Feeding Port

(

mm

)

External Dimensions

(

mm

)

PG-180

20-60
3
160
180*165
450*720*900

PG-300

80-200
5.5
330
310*230
1080*740*1160

PG-400

150-400
7.5
380
410*235
1080*840*1160

PG-500

200-600
11
750
520*250
1450*980*1380

PG-600

300-900
15
1250
600*300
1600*1100*1480

PG-800

800-2200
37
2500
800*650
1700*1320*1500

PG-1000

1000-4000
45
4000
1000*800
1800*1500*1550
86% Visitors ENQUIRED NOW and Got the Following Gifts Freely
1. 2021 Full Catalogue
2. 2021 Full Price List
3. Technical Brochure
4. Operation Manual
5. A Surprising Discount
6. Some Free Accessories