This equipment uses corn, soybeans (bean cakes), animal scraps, etc. as raw materials, and can be directly added to the machine to puff to produce particles of different shapes.
It has a unique taste, rich nutrition, and delicate tissue. It is suitable for dogs, cats, fish, birds, and rabbits, shrimp, dog, cat, mink, fox and other pet food.
Stainless steel models can be used to extrude puffed foods and snacks.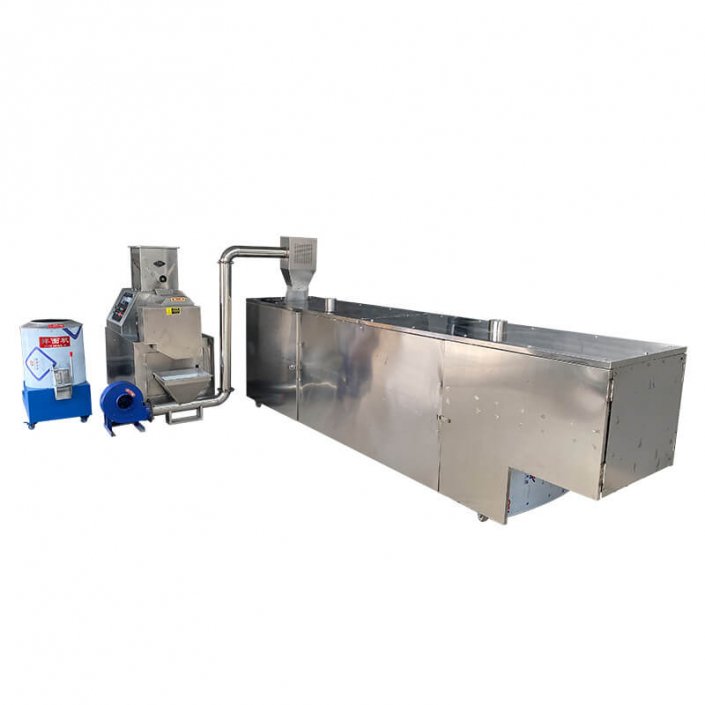 86% Visitors ENQUIRED NOW and Got the Following Gifts Freely
1. 2021 Full Catalogue
2. 2021 Full Price List
3. Technical Brochure
4. Operation Manual
5. A Surprising Discount
6. Some Free Accessories
| MODEL | POWER(KW) | CAPACITY(KG/H) | FEED POWER(KW) | CUTTING POWER(KW) | WEIGHT(KG) | MACHINE SIZE(MM) |
| --- | --- | --- | --- | --- | --- | --- |
| AKP-40 | 7.5 | 40-50 | 0.4 | 0.4 | 310 | 1300*1100*1200 |
| AKP-50 | 11 | 80-100 | 0.4 | 0.4 | 330 | 1350*1100*1200 |
| AKP-60 | 15 | 120-150 | 0.4 | 0.4 | 360 | 1350*1100*1200 |
| AKP-70 | 18.5 | 180-200 | 0.4 | 0.4 | 410 | 1500*1360*1250 |
| AKP-80 | 22 | 200-240 | 0.4 | 0.4 | 460 | 1500*1450*1250 |
| AKP-90 | 30 | 400-500 | 1.1 | 1.5 | 800 | 1650*1450*1300 |
| AKP-135 | 55/75 | 500-700 | 1.1 | 1.5 | 1200 | 1800*1550*1500 |
86% Visitors ENQUIRED NOW and Got the Following Gifts Freely
1. 2021 Full Catalogue
2. 2021 Full Price List
3. Technical Brochure
4. Operation Manual
5. A Surprising Discount
6. Some Free Accessories